HW Tenor Sax Pad-Saver®
Manufacturer Part #:
  LAPSTS
Description:
Product Summary

HW Pad-Saver® for tenor sax is made from super-wicking microfiber material that will not shed, shrink, or bleed. The custom made cap serves as the end cap to protect the tenon. Insert the HW Pad-Saver® into your instrument to instantly pull corrosive saliva from the pads, tone holes, and bore. May be stored inside or outside the instrument.
| | |
| --- | --- |
| Model: | LAPSTS |
| Manufacturer: | Hw Products |
LAPSTS
Manufacturer Part #:
  LAPSTS
Customers Also Enjoy
4 Total Related Products
HW Tenor Sax Gooseneck Pad-Saver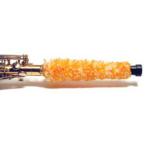 HW Alto/Bari Sax Neck Pad-Saver®
You Also Might Like
4 Total Similar Products
---
Customer Reviews





(0.00)

stars out of 5
(Only registered customers can rate)
Affiliates and Partnerships
---
Your shopping cart is currently empty.