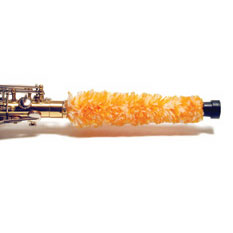 HW Alto/Bari Sax Neck Pad-Saver®
Manufacturer Part #:
  LANSABS
Description:
Product Summary

The super flexible design of the HW Pad-Saver® for alto sax gooseneck easily fits the curve of the neck where saliva and germs collect. Simply bend the flexi wire into a soft curve and insert it into the neck after playing. The ultra-wicking fiber will instantly pull corrosive moisture from every surface it touches, leaving your horn clean and ready to play next time. May be stored inside or outside the instrument.
| | |
| --- | --- |
| Model: | LANSABS |
| Manufacturer: | Hw Products |
LANSABS
Manufacturer Part #:
  LANSABS
Customers Also Enjoy
4 Total Related Products
You Also Might Like
4 Total Similar Products
---
Customer Reviews





(0.00)

stars out of 5
(Only registered customers can rate)
Affiliates and Partnerships
---
Your shopping cart is currently empty.